Canoeing Micro Adventure.North Wales
Canoeing Micro Adventure. North Wales
Join us for an epic micro adventure on the Menai Straits in North Wales. You will complete an amazing canoe journey along this iconic stretch of Anglesey coastline and to add to the adventure you will have the option to challenge yourself to a cliff abseil. To add extra epicness we will also cook food on an open fire and build a tarp shelter. Highlights of the day will be:
Great family adventure
Challenging Abseil
Terrific 10km+ coastal journey
Exciting white water water
Bushcraft skills
Wildlife
Suitable for beginners
Qualified coaches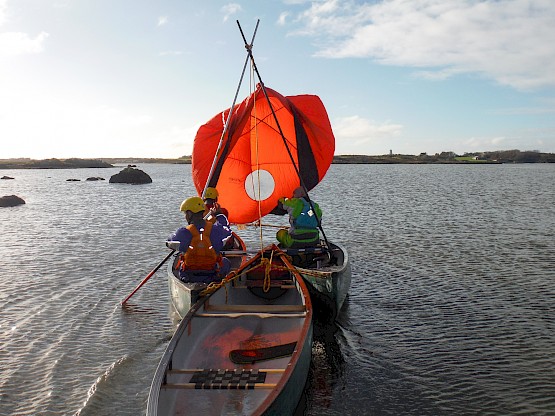 Canoeing is a fantastic way to explore the waterways of Snowdonia and North Wales whether that be lake or river. Snowdonia has a large choice of lakes and touring rivers with amazing views.The canoe allows great versatility. It can be paddled solo or in pairs and can be rafted together for a stable and sociable experience allowing up to 6 people to paddle together. This stability even allows a sail to be safely rigged if paddling becomes too tiring! They can also carry loads of kit allowing overnight adventures and plenty of food!
Running between Anglesey and the mainland of North Wales, the Menai Straits is a unique stretch of tidal water, with a change in direction every 6 hours or so! A real canoeing challenge.With a favourable tide, a day trip along the Straits is a reasonable proposition, many kms can be covered with relative ease.
The stretch between the 2 bridges, the Swellies has a fearsome reputation, complex tides, whirlpools and boils - all add a little spice to the experience! Correct route choice, timing and fair weather however make a passage through the Swellies more manageable.
What is the Menai straits?
The Menai Strait is a unique narrow channel of shallow tidal water about 25 km long, which separates Anglesey from the mainland of Wales. It varies in width from 1.5kms at its widest to 400m at its narrowest. This section is known as the Swellies and lies between Menai and Britannia bridge. This section is also a SSSI( site of special scientific interest)
The differential tides at the two ends of the strait causes currents to flow in both directions through the strait at different times, sometimes creating exciting conditions. One of the most exciting areas of the strait is known as the Swellies between the two bridges. This stretch provides great white water for an exciting ride. We usually raft canoes together on this section to prevent any accidental capsizes.
The present day channel is the product of glacial erosion of the bedrock along a line of weakness associated with the Menai Strait fault system.
What is your Canoeing micro adventure day like?
After our initial meet you will be kitted out in suitable canoeing clothes according to the days weather. A full safety briefing will follow. We then load the canoes with everything we need for the day. After loading, you will hit the water and practice some basic canoeing skills. Once these canoeing techniques have been mastered we embark on your fantastic micro adventure.
Once afloat on your micro adventure there should plenty of opportunities to view the marvelous Straits wildlife. This could be Cormorants diving for fish, inquisitive seals, twirling terns, soaring buzzards. Dolphins have even been spotted in the Menai straits!
At a suitable spot we stop for lunch and there is chance to practice the bushcraft skills of firelighting and shelter building. Once rested and fed it is time for you to tackle the awesome Swellies. Although it is the sea, it acts like a giant river. A great spot to practice white water canoeing skills. There are some great waves and even small whirlpools to add a bit of spice.
Before you know it this section is over and the water calms down a little. All that is left now is the optional abseil challenge. Dare you do it? A great sense of achievement once completed.
You are now nearing the end of your phenomenal canoeing micro adventure. Only a short paddle to the end of a truly memorable experience. You have certainly earnt a cool drink and a hearty meal in one of the great local pubs or restaurants.
Who is canoeing suitable for?
This Canoeing adventure is suitable for most abilities, old and young. A great family adventure. A correctly rafted canoe is very stable and extremely unlikely to capsize.
Where do we meet for your canoeing micro adventure?
We will meet at a pre-arranged location depending on tide times. This could be Beaumaris, Menai bridge or Port Dinorwic.
What to wear while canoeing?
We will provide:-
Canoeing Buoyancy aid
Canoeing Helmet
Neoprene socks
Neoprene gloves(if especially cold)
What you need to provide
Warm outdoor clothes
Full set off waterproofs
Wellies for feet
Full set of Spare clothes
Towel
Food & drink
1 day.
Optional overnight camp
Price:
£60.00 per person per day.
None required (although desirable, the ability to swim is not absolutely necessary).
Age Limit:
18+ (unless parent/guardian present then min. age approx 8 yrs).
Dates:
Online Booking Form:
Downloads:
Gallery
---
---